What are the 8 Wastes of Lean Six Sigma?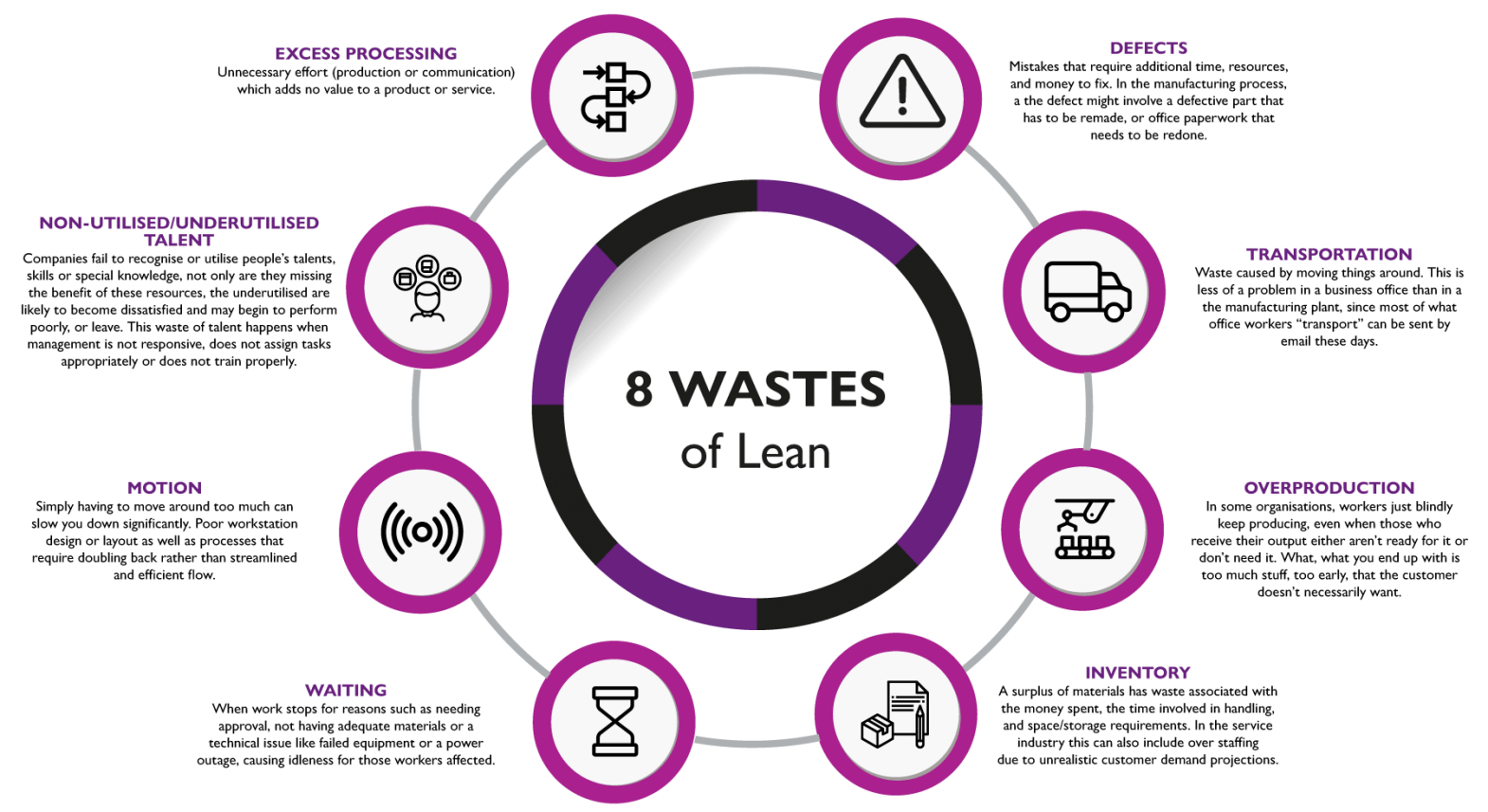 Business waste is among the things that all companies, businesses, and organizations must avoid. Though it's inevitable, there are a lot of different methods and strategies to avoid different types of waste. But are you aware of what the wastes are of Lean Six Sigma?
You might have knowledge of it, or you might not – don't fret, though, because we here at Lean Six Sigma Curriculum Experts are always ready and prepared to help you identify, detect, and eventually help you rid your business of these wastes.
Waste in Lean Six Sigma
Contrary to what most people believe in, Waste in Lean Six Sigma isn't only the trash and the garbage that your processes and procedures produce. More on that note, waste can be anything that comes in the form of time, material, labor – and even unused talents of your employees.
Waste can be any expenses and costs that your company has that does not become or help the business process or the organization become more valuable and relevant.
Why You Don't Need Waste
In any form, waste is waste – you don't need them in your company because they're just extra cost and expense for your business. It might be leeching off all the positive things and outputs that you have in your processes and it can be one of the reasons why you're not performing how you want or how you expect to perform.
The 8 Wastes of Lean Six Sigma
Many people might not be aware but the eight (8) different types and kinds of Lean Six Sigma Wastes are actually not that difficult to recognize. In fact, when you figure out what they are, you will find it easier to define and distinguish which is which.
Without further ado, the 8 different Wastes of Lean Six Sigma include:
Transportation
The first of all the wastes of Lean Six Sigma; you might find it a bit odd why transportation is a part of the types of waste; to tell you, the waste in transportation is the movement of anything in your control – machinery, equipment, people, and other products that aren't necessary.
Moving and transporting more than the necessary amount can lead to a lot of problems such as damages, defects, product malfunctioning, and the like.
Inventory
Have you ever wondered why there are companies that choose to have fewer items and equipment in their inventory? Keeping the items and units in your inventory more than you should is considered waste; it wastes space that can be used for other purposes, and it can be the root of some problems such as insufficiency, errors. More than what you need for your inventory can also be the reason of overprocessing or overproduction.
Motion
The difference between motion and transportation is that motion is the unnecessary usage and utility of people, machinery, equipment, even processes, and procedures. For example, if your operations floor is far from your office, your trip going there is already considered waste. Approaching this scenario is by moving your office or moving the operations floor to achieve faster and better results.
Waiting Time
There's nothing wrong with waiting, but excessive waiting times are actually one of the few reasons why waste is present in a company or an organization. In the event that you're not sure what's considered waste in waiting – it can either be:
Idle equipment waiting for people to use it; and
People waiting for equipment and materials
Overproduction
From its term alone, you would already know what overproduction is. If you still can't wrap your head around it, overproduction is simply the instance where more of a unit has been produced or reproduced without the command of it or without it being required. Basically, it's a waste because it's produced and created without any requirement. Whether it's going to be used in the future or if it isn't, then that's the time when it's not going to be considered as waste.
Overprocessing
The same as overproduction, overprocessing is the activity of doing more work than what is required. It can be because of the fact that more parts and steps have been added – or if the work is done is insufficient.
Defects
Defects are technically the most common type of waste as it's experienced not only in the manufacturing field, but in other areas and sectors as well such as the automotive industry or sector, the AS&D industry, and the like. A Defect will occur when the produced product or the service done isn't fit for what it's supposed to be used for.
Non-Used Talents of Employees
More commonly referred to as "Skills," this waste involves the potential and the competency of people or your working professionals, employees, or staff members. When one of your people is skilled and adept in a particular activity and you forbid them from doing it, it's considered as waste – never undermine your employees and never take what they can do for granted.
You can find it easier and better because it has the abbreviation TIMWOODN. In case you run across an assessment or if you need to identify what these wastes are, you can do so by remembering and memorizing TIMWOODN.
Do You Have Wastes in Your Business Processes?
Identifying wastes can seem daunting and rather intimidating at first but when you learn what they are, and if you really are aware of how your procedures and processes are held, you wouldn't have a problem with it.
Should you need help in being aware of what it is and in knowing how you can identifying and solving it, you can bank and count on us here at Lean Six Sigma Curriculum Experts.
We're the Future of Lean Six Sigma
Lean Six Sigma is among the skills and the procedures we are very much capable and adept in doing. You can trust and bank on us to help teach you to identify all the different kinds and types of Waste of Lean Six Sigma – and we can aid and provide training sessions to help eradicate and eliminate them, too.
Make the best and the smartest decision you can and work with the best Lean Six Sigma Training Center with us at Lean Six Sigma Curriculum Experts! Never worry about any of the different 8 Wastes of Lean Six Sigma!
Below are our list of additional services: